SPRING 2021 SESSION ONLINE AND IN PERSON
If a button is in-active it means that class is full.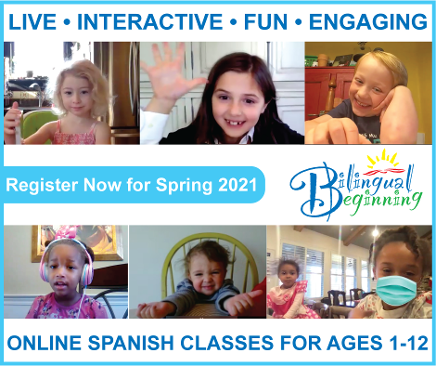 3:30 to 4:30 pm and
5:30 to 6:30 pm on Wednesday available for private groups of 7 kids or more.
Please email bilingualbeginning@gmail.com if you are interested in forming a group.
In- Person Parent & Child or Drop-off Classes
* All in-person classes subject to moving online pending CDC regulations and will keep their same schedules
* in private residence. If interested contact for location and registration link.
*only available for kids enrolled in each school - not available to the public
Parents register their children independently. Classes are open and available to any student provided there is space in the class. Due to time constraints, typically only 8 students are accepted for each group.
Schools offer classes to some or all of their students at their discretion and classes are divided by the school's preferencepreference. Individual registration not required.
Anchor Academy - Cordova
Miniature Minds - East Memphis
Little Tykes Preschool - East Memphis
Lord of Life Preschool -Germantown - not currently available